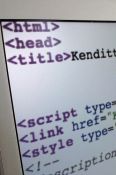 A viewer's first impression of your website can make or break his or her perception of you or your organization. We want to help by both removing the technical obstacles and by asking the right questions that can lead to a truly unique expression of who you are and what you have to say.
We can help you take on the whole project from design to publish, or if you just need some help with the technical stuff, we can help there too.
Start-to-finish custom web design process
First we get to know YOU! We can discuss who you are and what are your needs, so we can work together to find a solution. You can share specific ideas and we'll add some ideas of our own. Once we have agreed upon a direction, we'll sketch and scribble on paper to rustle up some creative ideas, and eventually recreate the best ones using a vector based graphic design program. You can be involved at each step if you like, and after you're happy with the look and content of the page we'll turn it into a live, working website with all the bells and wistles! It can be a really exciting process.
Content Management (CMS)
We use geeky tools like HTML, Javascript, CSS, jquery, and PHP to take the vision and make it come to life on the screen. But where it gets fun is implementing a really cool content management system (CMS) that can help both of us. A CMS can simply be a tool that makes it easier to build and maintain a website. There are plenty of options out there, and we can help you find the right one. Our current favorite is Concrete5. You can visit the Concrete5.org website to find out more, or watch the intro video to the right. It is powerful, flexible and open source to boot! But what can it do for you? Using Concrete5, we can make anything from an affordable "cookie-cutter" site, to a full blown custom design, and either way it can be edited by you with no knowledge of website code whatsoever.
Search Engine Optimization (SEO)
SEO is a big buzz word in website design circles. In a nutshell, SEO is a bunch of strategies to get to the top of the list when people search for you on the web. To most of us it seems like a tall mountain to climb with all that competing content on the internet. There's no single solution, but there are a few simple things we can do to give you an edge. A good CMS like Concrete5 (mentioned above) can be a giant step in the right direction. But we think the best single thing you can do is have relevant content that people want to read and experience.
Be who you are.   Do what you do.   And we'll help you find a way to tell the world about it.