I find Macs to be relatively friendly - that is - easy to use and learn.  But when you've been living in the Windows world your whole virtual life, you've likely come to accept certain features or functions are a part of normal computer life.  Now, some good intentioned relative has convinced you Mac is the way to go, and suddenly your world is turned upside down.  "What?  I can't right click on this thing?! How in the world do I copy this file?!"  Your missing functionality may or may not be missing - likely not - but you might need to learn to look in a different place, or activate a function that was not turned on by default.
Case in point, Right Clicking:
no pun intended. :-)
Yes, you can right click on the mac! (or "secondary click" as Apple calls it)  At this point, secondary click is not enabled by default on the magic mouse or trackpad, but is accessible by holding the [control] key while clicking.  If you have an older mouse with only one button, this approach may be your only option.  If you have a Mighty Mouse or Magic Mouse, it may look like there is only one button, but your mouse has a sensor inside that determines where your fingers are, and these do have the ability to secondary click.  Mac trackpads with "gestures" enable you to secondary click by having two fingers on the trackpad while clicking, or clicking in a certain area of the trackpad, depending on your settings.  And lastly, any third party mouse will also do just fine for secondary click, and in this case will be enabled by default.  Somewhat ironically, right now I am using a wireless Microsoft mouse with my Macbook Pro.
The procedure to enable or disable secondary click varies from desktop to portable, as well as between versions of Mac OS X.  Generally, secondary click settings are in System Preferences (Apple Menu -> System Preferences), and on desktops under "Mouse & Keyboard" or on portables under "trackpad" or "mouse" respectively.
Can I use my old external hard drive?
The short answer is yes.
Here's what you may have experienced.  You have a bunch of music and pictures that didn't fit on your old computer, so you have them stored on your external hard drive.  Or better yet, you have all your files backed up on an external hard drive (yeah right - be honest, you should have done this but didn't).  You attach your hard drive to your new mac and copy all of your wonderful data onto your new mac.  Everything has worked flawlessly and you are ecstatic.  A couple of days later you've created some new files and you find out you cannot copy them to the drive or create new folders, no matter how hard you try, the option just isn't there!
The reason is, external drives formatted for Windows use a filesystem called NTFS.  Mac OS X includes a driver for NTFS but it is only made to read, not write files.  There are lots of options for getting around this issue. Here are a few approaches.

Option 1. Install NTFS-3G, a free third-party driver that allows your Mac to read AND write NTFS.  This has been fairly reliable for me and can be found here: http://www.macupdate.com/app/mac/24481/ntfs-3g.  It's the same driver built into popular linux distributions like Ubuntu.  The up-side of this approach is the hard drive can still be used interchangeably with your Windows, or linux computer.
Option 2. Format the drive for Mac.  This will give you the most functionality out of the drive (you cannot use an NTFS drive for certain Mac functions such as Time Machine), but requires you to first copy all important data off of the drive, as everything on the drive will be DELETED permanently when it is reformatted.
note: if you have accidentally deleted files, there could be hope of recovering some or all of your files.  Do not use the drive at all, and immediately contact Kenditto or a data recovery expert for advice on recovering your files.
Here are the short directions to format the drive HFS+ (Mac OS Extended (journaled)): You can format the drive using a built-in utility called Disk Utility, found in Applications->Utilities (an easy way to launch programs like Disk Utility is to use Spotlight, the little magnifying glass in the top right corner of the screen [shortcut command-space]. Type the name of the program and it will appear in the list). Carefully select the drive or partition you want to format from the list at left, then choose the "Erase" tab.  Make sure you choose "Mac OS X Extended (journaled)" from the "Format" dropdown.  Name the volume whatever you like, and click the "Erase..." button.  You will get a confirmation dialogue and when you accept, the drive will be erased and formatted for mac.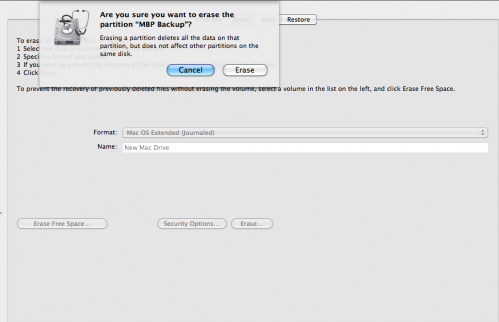 Formatting HFS+ using Time Machine: If you plan to use the drive with Time Machine - a great way to easily backup everything - Time Machine can actually format the drive for you.  I usually recommend dedicating a whole drive (or partition) to Time Machine, but you can in fact use the drive for other purposes in conjunction with Time Machine; just keep in mind that Time Machine will eventually use as much space as is available to it on the partition.  To format the drive using Time Machine, just open Time Machine preferences (System Preferences - > Time Machine), choose the "select disk..." button and choose your external hard drive from the list.  Follow the prompts to allow Time Machine to prepare the disk for use with Time Machine and it will automatically format the drive for Mac.  Be aware that as with other formatting procedures, all data on the drive will be erased.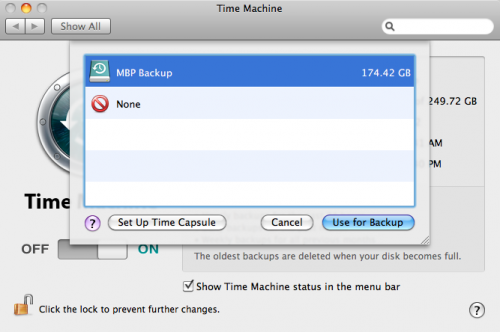 Well, that's enough for today.  The reality is, you've had years to get used to Windows and it's going to take some time to adjust to the Mac.  Switching isn't for everyone, but give it a chance and you may just start to enjoy yourself.  Feel free to ask questions in the comments, and I'll do my best to answer.